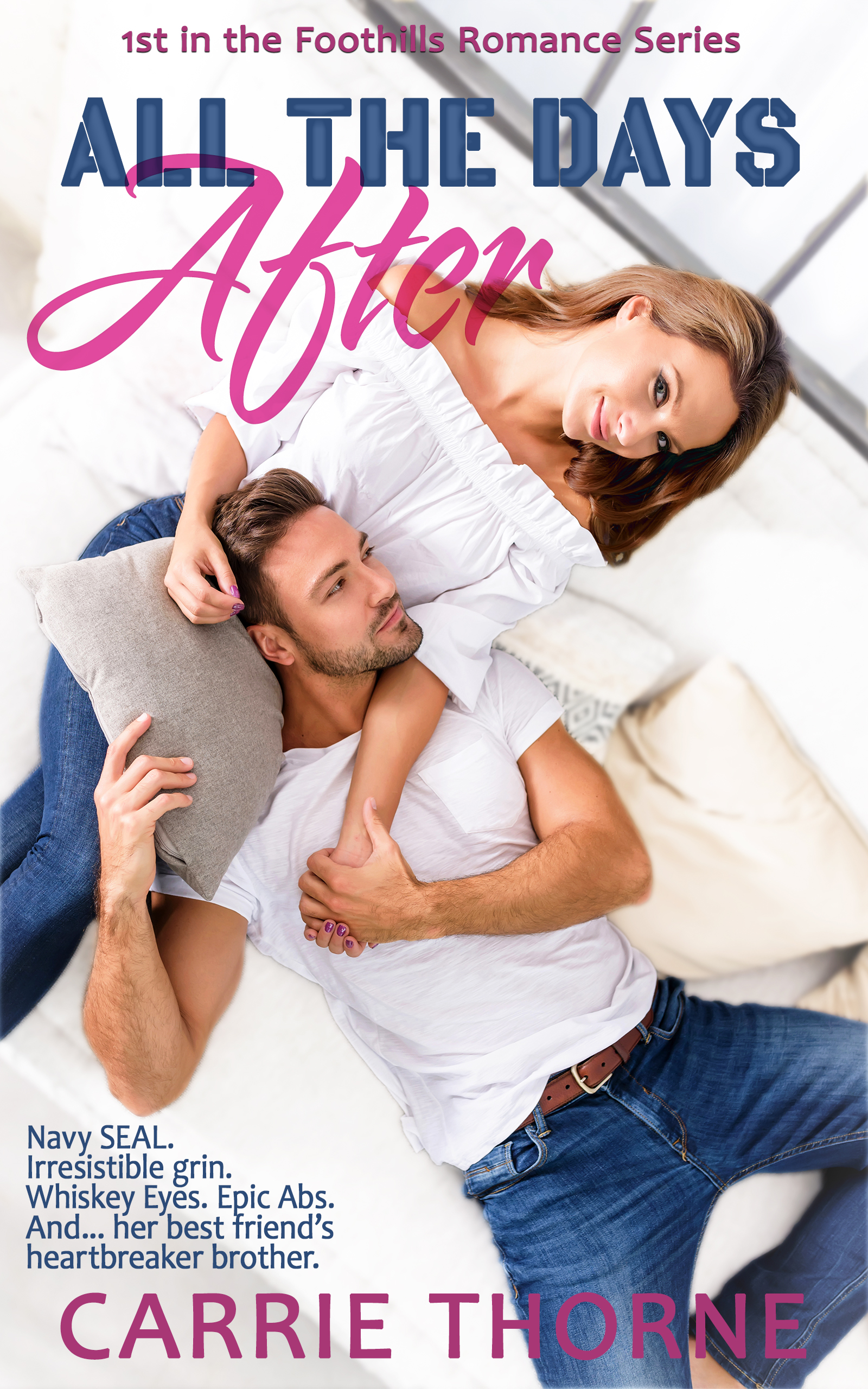 Former SEAL. Whiskey eyes. Irresistible grin. Epic abs. And... her best friend's heartbreaker brother.
"Just promise me one thing… Don't sleep with my brother."
No problem, right?  Sophie Jones has worked dang hard to get her life together after a rough start. She's got it all and wants to keep it that way as she settles into her new job in her new, serene hometown of Foothills, Washington where she can live the quiet life of an accountant… far from her vile, money-grubbing aunt. Trouble is the last thing Sophie wants.
Home from the Navy, former SEAL Asher Sutherland is not the guy he used to be. Although, he doesn't have a clue who he is now. The one thing Asher knows for sure is that he wants Sophie.
One problem. In his wilder days, Asher carelessly broke the hearts of his sister's friends on too many occasions. Neither Asher nor Sophie is willing to hurt Pippa (especially as she's gone a little bridezilla in the days before her wedding!). But, resisting the attraction may prove to be more challenging that either can withstand.
Settle in with a soothing cup of coffee and watch the sun rise in this tempting, satisfying romance set in the idyllic Pacific Northwest.
Too late. The screeching halted, leaving a thick, deafening silence in its stead. The body connected to the legs shoved out from under the truck and rose to stand.

Oh. So that was Asher.

Floppy as over-boiled spaghetti noodles, Sophie's legs completely betrayed her, and she worried as to whether they could continue to hold her up. A warm, fuzzy sensation coursed rapidly through her veins. All reasonable brain activity went caput like a fried hard drive, and she forgot her own name.

Before he noticed her, with her mouth gaping open from the next garage bay, he pulled his ratty cotton shirt over his head and used it as a makeshift grease-rag to wipe the black grime off his hands and face. Now that was just unfair. His abs defied reality;.
"Jalapenos make everything better. Adds a little heat."

"What about on ice cream? Apple pie?"

"Amazing combination." Briefly, she allowed her gaze to get lost in his warm, whiskey eyes. With a flip-flop in her chest, her heart took a moment to remember how to beat, as if it had been getting it wrong all these years.
Might as well be honest. She usually didn't get to be honest in relationships.

That's okay, I like pepperoni on my pizza…

Your mother didn't hurt my feelings at all…

Of course I orgasmed, you're a stallion.


Not with all the damn new parts he'd put in it; it was becoming quite the bionic rig these days. He wouldn't be surprised if it stood up and declared it was an alien here to save Earth from the Decepticons. Wasn't owning a Transformer every guy's fantasy?
A picture of him in his uniform resided next to hers on the mantle. She could certainly understand the fuss. Maybe, just maybe, on lonely nights, she let her imagination wander and allow a fantasy or two about the sexy SEAL. Not that she'd ever tell Pippa, and she told her best friend everything. Hell, their periods were synced to the day.
What people are saying about All the Days After